Chef Dawn Wilson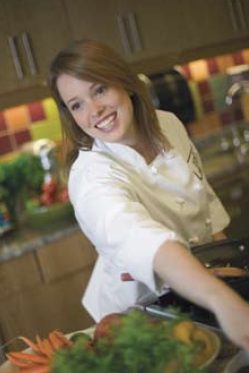 Executive Chef Dawn Wilson is the owner and driving force behind A NEW DAWN personal chef service. Formerly a Research Scientist with Biology and Molecular Genetics degrees from Loyola University and University of Chicago, Chef Dawn's passion for cooking and entertaining led her away from the lab and into the kitchen. She received her training "on the job" from many great chefs with stints at Bin 36, Cafe Las Bellas Artes, and several catering companies throughout Chicagoland.
In 2006, Chef Dawn opened A NEW DAWN personal chef service to bring home-cooking back into Chicagoland homes. A NEW DAWN has provided catering, personal chef services, and cooking instruction to many clients in Chicago and the surrounding suburbs to rave reviews. She has since spent time as the Culinary Director for Whole Foods Market-Northbrook teaching cooking classes and, most recently, lent her pasta-making expertise to one of Chicago's hottest new restaurants, Balena.
In 2011, Dawn moved to the small Tuscan town of Colle Val d'Elsa where she worked at the rustic Slowfood restaurant, Officina della Cucina Popolare, learning the secrets of handmade pasta and Tuscan cuisine. Following her stage at Officina, she traveled and tasted her way around Italy with stops in many regions including Emilia-Romagna, Umbria, Veneto, Piedmont, Lazio, and the Amalfi Coast. Earlier this year, her love of all things Italian. especially handmade pasta, drove her to launch Vicini Pastaria, a line of artisanal handmade pasta, sauces, and other Italian specialties.
Dawn is excited about her newest adventure as a chef instructor for The Chopping Block. In addition to Italian cuisine, her broad expertise includes Mediterranean, Latin American, and Asian cuisine, and gluten-free, heart healthy, and vegetarian lifestyles. Her simple, straightforward teaching style aims to take the fear and intimidation out of the kitchen by breaking down cooking to its fundamentals and making it fun and informative for students of all skill levels.
Chef Dawn is committed to using only the finest, freshest, seasonal ingredients, preparing each dish with care and a true passion for food, and creating a delicious and memorable dining experience for each and every client.

A NEW DAWN
Personal Chef Service
773-317-8971
anewdawnchef@gmail.com